---
Honoring a Legend
Commemorating the 50th anniversary of the SL-1200, arguably the most influential turntable of all time, Technics has announced the launch of the SL-1200M7L. This run of limited-edition turntables, a spin-off of the most recent incarnation of their flagship model, will feature gold tonearms and special 50th anniversary badges. Those lucky enough to claim one will also receive a control vinyl sticker the same color as the turntable, as well as a slipmat featuring a gold Technics logo.
Technics will be launching 12,000 units worldwide over a 12-month period. There will be 7 unique colors available, distributed to vendors at random. To provide fair access to all, orders will be honored first come, first serve. There are no guarantees on color or ETA, as retailers must wait for deliveries. Each turntable is individually numbered, but there will be no serial numbers on the boxes.
---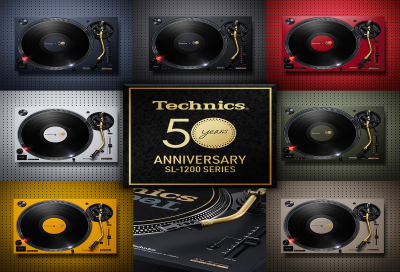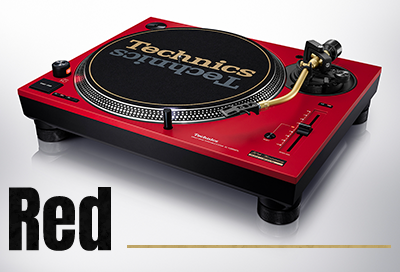 ---
Technics and the Birth of DJ Culture
Technics debuted in 1965 with the introduction of the Technics 1, a sealed, two-way speaker system that was marketed domestically in Japan. Over the next few years, the brand would release a series of home audio equipment such as the Technics 10A stereo preamplifier and Technics 20A power amplifier in 1966, the Technics 30A preamplifier in 1968, and the Technics 50A transistor integrated amplifier in 1969.
Then, in 1970, Technics introduced the SP-10, the world's first direct drive turntable. Designed to address the noise and rotation irregularities of belt drive and idler systems of the day, the SP-10 provided stable rotation and was able to reach rated speeds faster than previous turntable models. Following closely behind in 1971 was the SL-1100, which would have a huge impact on the history of music. This direct drive turntable model featured a die-cast aluminum body and integrated tonearm which not only made it durable but extremely portable and easy to use. It was with this turntable that DJ Kool Herc would develop a style that would become the foundation for hip-hop music in the Boogie Down Bronx.
---
---
A Legend is Born
Just a year later, in 1972, Technics brought the SL-1200 to market, a huge turning point for hip-hop music and DJ culture. Building on the SL-1100, the first-generation SL-1200 featured a high-performance direct drive system, a more compact aluminum die-cast cabinet, pitch control, and a unique dot pattern engraved into the edge of the turntable. These features, as well as the amazing build quality, allowed for easier beat matching and cueing, which quickly made it a favorite among DJs. Over the years, Technics has continued to make great improvements to the SL-1200 platform, most recently in 2019 with the introduction of the SL-1200MK7.
---
---
The 50th Anniversary Model
Based on the SL-1200MK7, these limited-edition models will offer the same high-quality performance and features one expects from a Technics turntable. Built on a coreless direct drive system, The SL-1200M7L features improved torque and brake speed adjustment thanks to digital motor control technology, an improved pitch control function that allows for fine adjustment of rotation speed within ±8% / ±16%, and a reverse play function. You'll also find a golden high-sensitive tonearm, stylus illuminator featuring a high-brightness white LED, and high-rigidity cabinet with high-damping insulator, making this an ideal tool for a DJs arsenal. Get your pre-orders in soon, these are gonna go fast!