Chauvet Hurricane H-700 Fog/Smoke Mini Strobe LED Blacklight Halloween Light Kit
About This Product
Chauvet Hurricane H-700 Fog/Smoke Mini Strobe LED Blacklight Halloween Light Kit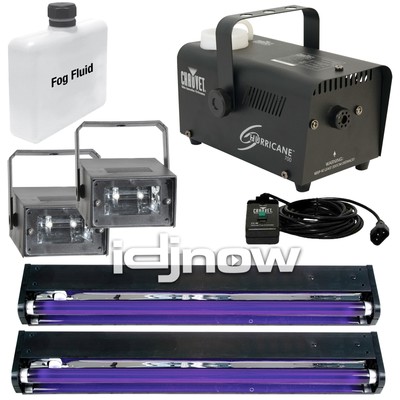 This Package Includes:
1x Chauvet H700 Fog Machine
2x Battery Strobe (AA Batteries Not Included)
2x American DJ Black 24 Fix Blacklight
Hurricane 700
The Hurricane Series Foggers provide the quality, performance and innovation for which CHAUVET is known.
All come with generous-capacity tanks and quick heat up of water-based fog to fill a venue within minutes.
Features:
Output: 1,500cfm
0.6L tank capacity
Fog fluid included (0.5L)
4 minute heat up
Manual fog button
Wired remote included
Water-based fogger
Specifications:
Tank capacity: 0.2 gal (0.6 l)
Remote length: 13 ft (4 m)
Heat-up time: 2.5 min
Output: 1,500 cfm
Fluid consumption: 7.5 ml/min
Input voltage: 120 VAC 60 Hz or 230 V 50 Hz
Power and current: 471 W, 3.9 A @ 120 V 60 Hz
Power and current: 471 W, 2.0 A @ 230 V 50 Hz
Weight: 4 lbs (1.8 kg)
Size: 8.5 x 7.1 x 4.9 in (215 x 180 x 124 mm)
Mini Strobe LED
Mini Strobe LED is an ultra-compact and lightweight strobe light, ready-to-go out of the box. Simply plug the unit in, and adjust the flash rate for the desired effect. LED power means it will run all night and stay cool to the touch.
Features:
Ready to go out of the box
Manually adjustable strobe rate
Specifications:
Light source: 21 white LEDs
Strobe rate: 0 - 7 Hz
Beam angle: 120°
Input voltage: 120 VAC 60 Hz
Power and current: 1 W, 0.1 A @ 120 V 60 Hz
Weight: 0.5 lbs (0.2 kg)
Size: 5.1 x 4 x 3.7 in (130 x 102 x 95 mm)
Approvals: CE
Single 24 inch (2 foot) Black Light
Features:
Reflectors for super high output!
Assembled with tube & fixture
6 ft. cord
On/Off switch
Lamp: (model: BLACK-TUBE) 20W black light
Actual fixture dimensions: 29.5" x 3.25" x 2.25"
120V or 220V operation
Subscribe to my Mailing List
View my other items!

Shipping Info
Domestic orders placed by 3pm EST ship out the same day M-F
Free shipping is available to customers located within the 48 lower U.S. States for most items
Domestic Express shipping options are available for an additional fee
International shipping is available to almost all locations worldwide for most items
Tracking information is provided at the end of each business day via email for all shipped orders
We ship using multiple carriers such as Fedex, UPS and the USPS
Domestic PO Box addresses will be shipped via USPS only
All import duties, taxes and fees associated with the import of a product are to be paid by the buyer
Warranty Info
30 Day seller direct coverage on most new items
Full manufacturer warranty coverage and support
We are Authorized Dealers of all brands offered
Buy with confidence; Your warranty will be honored by the manufacturer
For assistance with warranty claims or warranty questions contact us here
Payment Options
Paypal is our preferred method of payment
All major credit cards are accepted
Orders will only be shipped to the confirmed address listed on your order
Requests in Paypal payment notes are not honored; Contact us here instead
Sales tax will be collected from NY State residents only
For assistance completing your payment or to ask a payment related question click here
Returns
30 Day return period for most items
Refund, exchange or merchandise credit available
Domestic buyers pay return transportation expense
International buyers pay all transportation expenses including taxes, duties, Brokerage fees, etc.
Shipping charges, taxes, duties, etc. are non-refundable
Damaged or defective items must be reported within 7 days of receipt
Merchandise returns must be initiated within 15 days of receipt
All returns require an RMA# which can be obtained via telephone or eBay message
Product must be in "resalable as new" condition to qualify for a full refund
Items returned in "resalable as new" condition will receive a full refund less the original shipping expense incurred
Items originally offered with "Free Shipping" will have the initial shipping cost incurred deducted from the refund
Special Exceptions
The following items are ineligible for return and will be sent back at your expense if received by idjnow:

Items returned without all original packaging and components, including the retail box, manuals, cables, etc.
Items used by mouth/ear due to sanitary issues, including but not limited to: headphones, ear buds, microphones, etc.
Open software/digital media including but not limited to: control CD's, vinyl, software plug ins/upgrades/installers, etc.
Contact Us
Do you have questions for us? We're happy to help!
Contact us via telephone at 800.355.7746
Contact us by sending a message here
Powered by eBay Blackthorne 04.14.062
tech_spec_description